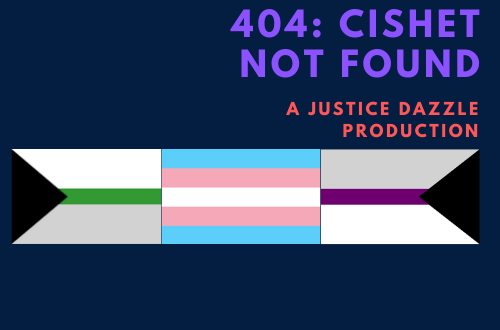 The home of my podcast (404: CisHet Not Found ). It is my reflections and opinions on life, love, sexuality, gender, and my transition.
I also am recording these and uploading the video to my YouTube Channel. If you want to subscribe to that, go here.
To follow my FaceBook page for 404: CisHet Not Found, go here.
I will be trying to upload at least 1 episode a week. if there are any subjects that you would like to hear me talk about, please send me an email.
Listen
Episodes
Episode 1: Introduction (Recorded on 5/2/2020)
Introduction to me, Justice Dazzle, and what the 404: CisHet Not Found podcast will be focusing on. I talk about finding my gender identity, my sexuality, and why I am doing this.
CW: Drug use and overdose.
Episode 2: Intimacy (Recorded on 8/9/2020)
Talking about the different types of intimacy, what they look like, and the fact that it is not all about sex.
Episode 3: Dysphoria (Recorded on 5/25/2020)
This was a hard episode for me to record, as talking about my dysphoria is not easy for me, but that is why this is a necessary one for me to do.
Subscribe